MUNICIPAL HEALTHCARE DEPARTMENT HEAD MUST ANSWER FOR CORRUPTION - PSRM
02 november, 2017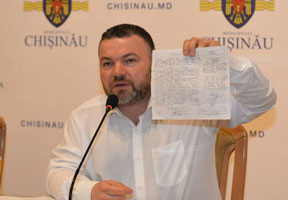 Chisinau municipal councilor Alexander Odintov of the Party of Socialists said at the Wednesday's press conference that head of the municipal Healthcare Department, Liberal Party Deputy Chairman Mihai Moldovanu should be punished for corruption.

He expressed bewilderment about absence of a Strategy on developing Chisinau healthcare sector for the period of 2015-2020.

"Mr. Moldovanu was appointed as head of the working group on developing this highly important document. The order came from Moldovanu's party boss Chisinau Mayor Dorin Chirtoaca, who is now under investigation. The deadline was December 2016. We are at the end of 2017, but there is still no concept. Meanwhile, around 1 million lei were paid to foreign consultants for assistance in document development", the Socialist councilor said.

He said that in absence of a clear plan on developing the healthcare, it is much easier to engage in shady businesses and this is what Moldova is doing.

"Moldovanu headed another working group on investigating cases on supplying low quality food to kindergartens. The scandal with rotten meat, served to our children, occurred in 2016. 12 months have passed and nobody was punished except one company, which got in black list. Meanwhile, the very official is also engaged in selling food. His company is registered on the address 2 Uzinelor Street. What is interesting, recently, another former Liberal Igor Gamretchi, sentenced for corruption, received in property five warehouses on the same address. The cost of property, registered in the name of Gamretchi's mother is 1 million euros", the Socialist said, maintaining that this money is kickback to officials for corruption acts.

The CMC member cited another example of clear corruption actions by Moldovanu.

"In the Bucuresti Street (near the Dinamo Stadium) there was a center for massage for children. Kids benefited from qualified medical assistance there. With direct contribution of the Chisinau Healthcare Department head, this land plot was transferred to a certain company and now a business office is functioning there instead of a center for children. Should we understand that Moldovanu believes that Chisinau citizens and their children better need another office monster, but not a medical center", he concluded.

The councilor wondered where from the official, who formally is living on one salary, has a luxurious house and several luxury cars.

Odintov said that today a tandem of Liberal and Democratic parties is harmoniously functioning in Chisinau.

"The alliance of Liberals and Democrats did not disappear. The fact that Gamretchi was sentenced on probation allows Moldovanu committing outrages and is just another confirmation of supporting this regime at the very top of power in Moldova. They also try to take Chirtoaca away from attack, despite the fact that over 10 years of his mandate he did just one thing - gathered around him a gang of corruptionists and swindlers", Odintsov said.

"We are seeking money for healthcare in Chisinau? No chance to find any until Liberal party proteges remain in power. Those, who ignore the November 19 referendum on dismissing Chirtoaca, vote for preserving the breeding ground of corruption in city administration", the Socialist maintains.