AFRICAN HOG CHOLERA CAME TO MOLDOVA FROM UKRAINE
03 november, 2017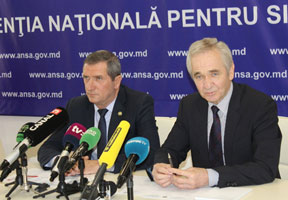 The reason of African hog cholera outbreak in Palanca village of Stefan Voda raion was the importing of infected meat from Ukraine, said National Food Safety Agency (ANSA).

ANSA Director Gheorghe Gaberi said at the Friday's press conference that unfortunately people do not understand the danger of the disease. Attempts to save on cheap meat from Ukraine may lead to serious consequences and great economic losses.

"Prime Minister Pavel Filip ordered that besides ANSA, customs and tax service, as well as border police, General Police Inspectorate and the Ministry of Economy to be engaged in combating the disease during the quarantine", he said.

According to him, the activities on combating the disease spreading are conducted not only in Palanca, but also along the entire border with Ukraine.

ANSA Deputy Director Vsevolod Stamati said that all the roads in the locality have been blocked except one – entrance and exit from quarantine zone, as well as sanitary points are installed.

As Infotag has already reported, in total four outbreaks of African hog cholera have been registered, which have been successfully liquidated.

The republic is in the zone of high risk, as most of disease hotbeds were registered in the neighboring Ukraine. Moreover, all the four cases of cholera in Moldova are connected with importing of infected meat from Ukraine.