SILVIA RADU INTENDS TO MAKE CHISINAU A PROSPEROUS CITY
06 november, 2017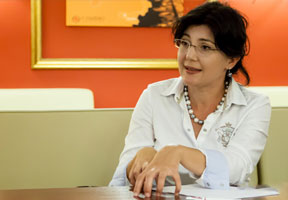 The newly-appointed Chisinau Acting Mayor Silvia Radu said on Monday that she is going to do her best that the Moldovan capital city to become prosperous.

"I accepted this post as I was asked to. I thought well before agreeing and I understand that it is about a short period of time. However, I hope that experience will help us to initiate changes which will lead to resolving Chisinau people's problems. I asked Grozavu to stay deputy mayor as I need his experience. I hope that political approaches will not hinder Primaria activity", Radu said.

According to her, she is a politically non-affiliated person with a wide administration experience.

"I hope this will allow me to fruitfully cooperate with all the Chisinau Municipal Council factions to find necessary solutions for administrating the city. I will need little time to get acquainted with the entire information about the activities in the municipality. I promise we will be working transparently", Radu said.

She promised to organize press conference in the coming 10 days, where she will present possible ways of resolving problems Chisinau is facing.

Infotag's dossier: Solvia Radu is 45. She graduated from the faculty of Economic Law of Moldova State University, started her working activities in the department of energy in 1995. In 2000-2015 she was general secretary, corporative director, corporative president, president in Gas Natural Fenosa company. In 2016, she participated in presidential elections as independent candidate, ranked the 9th of 10 candidates, getting 0.37% votes (5276 votes).