SOCIALISTS TO CHALLENGE IN COURT APPOINTMENT OF SILVIA RADU AS CHISINAU ACTING MAYOR
07 november, 2017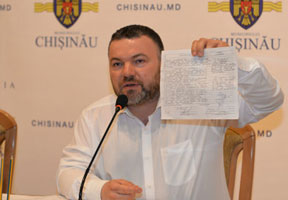 Socialists intend to challenge in court the decree on appointing former Gas Natural Fenosa Moldova manager Silvia Radu as acting mayor of Chisinau, regarding this as legislation violation, said PSRM councilor in Chisinau Municipal Council Alexander Odintov.

He said that according to the regulation, Chisinau general mayor is elected by general voting of Chisinau citizens. On the basis of the article 17 of the Regulations, the filling of the position of General Mayor is possible at the proposal of the very mayor or he chooses the candidate by himself, if the CMC refuses to vote for the proposed person twice.

"Observe that nothing said is said that Chisinau governor may be appointed by an official in the post of deputy mayor, who besides is under criminal investigation. Grozavu violated here all the possible legal frames on the advice of Democrats", the Socialist said.

He said today there is a bargaining between Liberal Party leader Mihai Ghimpu and Democrats.

"There are three variants of the development of things. If the November 19 referendum does not take place, Chirtoaca, accused of corruption, will come back to the City Hall and we see the nepotism and bribe-taking. Or Chirtoaca will get suspended sentence, as it was done to ex-Liberal Igor Gamretchi, LP Deputy Chairman Iurie Chirinciuc, CMC councilors Ghenadie Dumanschi, Oleg Onishenco and CMC secretary Valeriu Didenco. If Chisinau citizens want the lawlessness to continue, let them stay at home and not come to the referendum", Odintov said.

According to Socialist MP Bogdan Tirdea, by means of appointing Radu, the Democratic Party wants to get the capital city as a cherry on the cake.

"The power in our city will go to the DP, which got 2% votes at the last elections and has one councilor in CMC, and the lady who, running for the post of president, got sympathies of 0.37% electors. If we want that parties and persons with miserable popularity to rule over us, keep calm this time as well. But if you are against – go to the plebiscite", Tirdea said.

Chairman of the PSRM faction in CMC Ion Ceban supposed that the today's appointment is the last attempt to save Chirtoaca.

"Moreover, this step is a direct blow to all the world-recognized democratic and law norms. In case the referendum does not take place and Chirtoaca is not dismissed, which will provoke early mayor elections, Chisinau government will get under direct control of the DP. It is not excluded that this is the result of an agreement between Liberals and Democrats", he said.