EU HELPS CANTEMIR RAION HOSPITAL TO RAISE ENERGY EFFICIENCY
09 november, 2017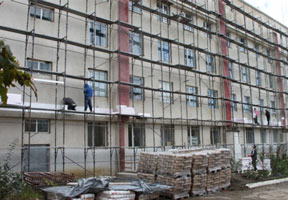 The Cantemir Raion Hospital will become more energy efficient due to the town membership in the program "Compact of Mayors - East", financed by the European Union.

According to the EU Eastern Neighborhood website, the project has started at the beginning of autumn and includes heating insulation of the facade and repairing the building roofing. The repair works also imply modernization of the ventilation system and establishing of solar panels, which will allow the hospital using the renewable energy sources and reduce heating costs.

The project is being implemented by the South Regional Development Agency (ADR Sud) from the National Regional Development Fund. It is aimed at raising the level of comfort in surgery department.

The Investment project is aimed at bringing benefit to approximately 63 thousand citizens of the raion, who address to the hospital for medical assistance.

"In order to ensure European path of our country, the reduction of energy consumption and waste acquires increasingly biggest importance. Measures in the field of energy efficiency are more and more often declared as a means for achieving sustainable energy supplying, reduction of greenhouse gas emissions, green energy, raising safety of supplies and expenses lowering. The energy efficiency is a priority for us and such investment projects are very important and necessary", Agency Director Maria Culesov said.

Infotag's dossier: The Compact of Mayors is a flagman initiative of the EU on reducing the CO2 emissions by at least 20% by 2020. It helps municipalities improve living conditions due to considerable reduction of CO2 emissions, by means of encouraging and supporting local authorities for achieving and implementation of a more stable local energy policy.