MAIB OPENS FIRST CENTER FOR YOUTH FINANCIAL TRAINING
17 november, 2017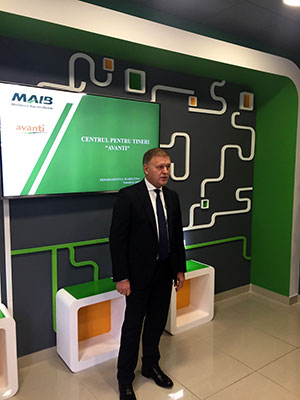 The country's largest financial institution – Moldova Agroindbank (MAIB) opened the first center for financial training of youth – "MAIB Studio Avanti" in the very center of Chisinau on Friday.

At the center opening ceremony, MAIB Chairman of the Board Sergiu Cebotari said that the functioning of such a department in the bank's structure fits in the strategy of development of the main country's bank.

"All the trainings, seminars, roundtables for children and youth will be covered by the bank", said the banker, pointing that the center will be servicing clients aged from 7 to 35.

He also said that MAIB is intensively developing electronic services, in particular, the promotion of cashless money using.

"There are 1.6 million bank cards issued in the country, but the rate of their practical using in cashless payments accounts for 13% only. Many are cashing money in ATMs and paying with cash. At the national level we have to change this situation and bring the rate of cashless payments at least to 40%, as it was done in Belarus", Sergiu Cebotari said.

Talking about the MAIB leadership on the market, he said that this is uneasy, as it forces the team to intensively work, plan, calculate and forecast perspectives for preserving the bank sustainable and dynamic.

"The most valuable in our bank is its people. The number of employees already exceeded 2 thousand", Sergiu Cebotari said, expressing gratitude to all specialists, who were directly involved in establishing and preparing the center for opening.

MAIB Deputy Chairman Oleg Paingu told about services, proposed by the financial training center, including the issuing of soft consumer loans, mortgage crediting with 0.5% discount, free issuing of banking card AVANTI the bank will be issuing with the image and design, proposed by its owner, starting from 2018.