EX-PREMIER VLAD FILAT ADDRESSES TO SUPREME COURT
12 december, 2017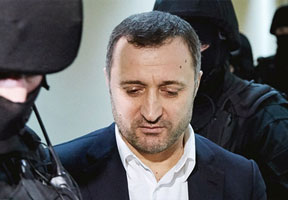 Moldova's former Prime Minister Vlad Filat, serving a sentence in jail, has addressed to the Supreme Court of Justice on Monday i.e. on the eve of a new consideration of his inquiry, his lawyer Igor Popa said in an interview with Ziarul de Garda newspaper of Chisinau.

The lawyer explained that the address to the Supreme Court is Filat's ultimate possibility to challenge the final verdict of a lower-instance court, and "if the Supreme Court of Justice declines his petition, Mr. Filat will be seeking justice with the European Court for Human Rights".

The lawyer made public Filat's address saying that 26 months after the litigation beginning, "everything has become clear to everybody - informed and not informed ones".

"All I want is to take part in a trial and not in an execution. All this period I have been begging only legal and humane things: a public trial that would examine evidence and not denunciations; a trial that would hear witnesses of the defense, would carry out financial expert examinations so that to make a court judgment a real justice that would not depend on somebody's interests. In this connection, with an account of the fact that my usual petition on challenging the verdict was declined, I am waiting from the Supreme Court of Justice that may be this time it will take a legal and fair decision and consider my inquiry on cancelling the verdict", wrote Vlad Filat.

According to the Code of Criminal Procedure, a petition on cancelling a court decision, which has already come into legal force, may be submitted to the Supreme Court of Justice only after all other legal ways to challenging have been exhausted. The Supreme Court has scheduled for December 12 the considerable of Vlad Filat's request to revise his case. It is believed, however, that on Tuesday the Court will say only whether it is accepting the petition for examination or not accepting.

As was already reported by Infotag, on June 27, 2016 ex-Prime Minister Vlad Filat was sentenced to 9 years in jail with the confiscation of his personal property and with prohibition to hold public posts for 5 years afterwards, and a fine of 60,000 lei. He was accused of major corruption, deriving of profits from influence, and of accepting of US$250 million in bribes and presents from businessman Ilan Shor. The entire accusation was built on Shor's evidence, who was also arrested a few days before the Filat verdict.

The Supreme Court of Justice left the first-instance verdict in force. Last August, Filat addressed with a complaint to the European Court for Human Rights. In September, Filat's lawyers again addressed to the Supreme Court, demanding to revise the case, "otherwise Moldova will again lose a lawsuit in the European Court". The lawyers are maintaining that the examination of the Filat case abounded in violations of the national legislation.