PRESIDENT DODON GETS INTO TRAFFIC ACCIDENT - FORTUNATELY WITHOUT SERIOUS INJURIES
10 september, 2018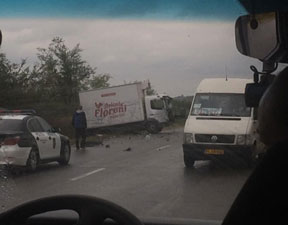 Moldovan President Igor Dodon's official car was seriously damaged in the traffic accident that happened on Sunday afternoon near Straseni town on the Chisinau-Calarasi highway.

Presidential Legal Adviser and Press Secretary Maxim Lebedinschi has reported that the presidential cortege was moving according to rules, when a medium-size truck unexpectedly got into the opposite lane and smashed into the presidential car. President Dodon feels well. He did not need any particular medical help.

Doctors from the Chisinau Emergency Hospital confirmed that President Dodon refused to get hospitalized after receiving routine first aid. Together with the head of state, his mother and medium son were also delivered to the hospital, where they were subjected to similar routine procedures and were permitted to go home. Some media outlets reported that of all the accident participants, the President's mother suffered the most but, still, her health is out of danger.

According to medical doctors, a State Guard Service officer from the second car in the presidential cortege was brought to hospital with a concussion of the brain.

According to the police, the truck driver, who was carrying a consignment of chicken meat, lost control of his vehicle and ran into the opposite lane. The accident was recorded by an on-board video camera, proving convincingly that the accident was caused by the truck driver.

Many social networks users are naming the accident as strange. They are not ruling out that the truck moved into the opposite lane deliberately, and the video record really gives grounds for feeling so. When the truck smashed into the presidential Mercedes, both vehicles flew onto the roadside, and the Mercedes overturned. The video, recorded from the second vehicle in the cortege, a Volkswagen-Touareg of the State Guarding Service, was immediately posted on the Service's website.

MP Vlad Batrincea, the Executive Secretary of the Party of Socialists (PSRM), is convinced that it was not just a casual road accident but a premeditated assassination attempt. He named the so-far unknown accident organizers "Bastards!" and stated it was definitely an attempt to liquidate a political opponent.

Alexandru Pinzari, Chief of the Ministry of the Interior General Police Inspectorate, only said that it's too early yet to make categorical conclusions, and that the police are investigating the accident.