MOLDOVA CITIZENS ARE MOSTLY CONCERNED ABOUT MIGRATION, POOR INCOMES AND LACK OF JOBS – OPINION POLL
31 january, 2019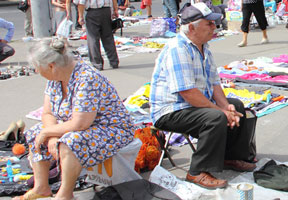 Moldovans are mostly concerned about migration, poor incomes and lack of jobs, and these problems should be solved foremost, as per the findings of the socio-political poll that were presented by the experts of the Date Inteligente Company on Wednesday.

53.2% of the respondents emphasized migration, 43.3% - poor income, 41.4% - lack of jobs. 38.6% of the respondents are concerned about the economic crisis and 29.7% about the political crisis. 36.5% of the respondents consider corruption as the main problem, 23.1% - poor condition of roads. About 6% are alarmed by the threat of dictatorship in the republic, and 4.4% - by the possibility of war.

As for the localities where the poll participants live the following problems have been identified: 48.7% - poor income, 46.7% - high prices, 43.2% - lack of jobs and 39.8% - poor condition of roads. Another 21.3% are dissatisfied with the sanitation condition of their locality, and 13.5% with local authorities. Only 4.2% of citizens are concerned about criminality and 4% about inter-ethnic relationships.

About 39% of the respondents called Pro-Moldova course as development vector for the country, 24.8% - Pro-European, 21.9% - Pro-Russian, and 10.3% - unification with Romania.

The survey was carried out from January17 to 26. It was attended by 1,208 respondents from 80 localities of the Republic of Moldova. The opinion poll had a margin of error 2.8%.