​POPULATION DEPARTING ABROAD IS CRITICAL PROBLEM FOR MOLDOVA – PRESIDENTIAL ADVISOR
18 march, 2019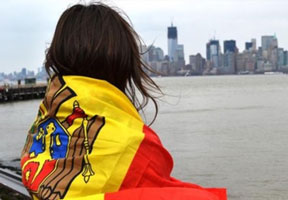 The departure of citizens of working age, especially of the youth, abroad is a serious problem in the today's Moldova, maintains Presidential Advisor for Ties with Diaspora Cristina Buga.
At the Friday's press conference in Chisinau, dedicated to migration problems, she said that since early 1990s Moldova lost one-third of its population.

"Given that several hundreds of thousands of people go abroad for studies or treatment, the recent-years situation in the country is catastrophic. The outflow of youth abroad to seek a better future is affecting the economy, which is the wellbeing of those who remained in the republic. Each 5th child in Moldova has one or both parents permanently working abroad. It is evident that in such a situation we cannot speak about normal raising of the young generation", Buga said.

In her opinion, in a small Moldova the authorities could have arranged everything quickly and efficiently, but the state of affairs is such that villages die in the country due to massive population migration.

Head of the Gagauzia Executive Committee Department of External Relations Vitalie Vlah said that there is also such phenomena as 'regional migration' inside the country.

"The youth is leaving. Meanwhile, it is them who are engines for progress and economy. For resolving this problem, one of the first proposals of the current Bashkan was the allocation of 100 scholarships for students from Gagauzia, who will continue studies in the Comrat university or in other higher educational institutions of the country. It is important that specialists not to leave Moldova after graduation, but to remain, work, create families and give birth to children. Since 2018, doctors, who choose to work in the autonomy, are receiving lump-sum assistance worth 50 thousand lei for settlement. I am sure that these are just first steps towards overcoming the phenomenon of Gagauzia de-population", he said.