DIASPORA CHILDREN INVITED TO APPLY FOR DOR PROGRAM
19 march, 2019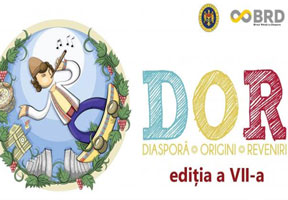 The application for participation in the 7th governmental program on strengthening emotional, cultural and personal ties of Moldovan migrants' children with the motherland DOR (Diaspora, Origins, Returning) has started on Monday. Participants may submit applications on the website http://dor.md/node/6 until May 18.

According to the Government, the participation in the program is free of charge and is covered from the state budget, except the travel to and from Moldova.

Candidates should be aged 12 to 17, they should speak state language. Children from diaspora, who participated last year in the contest "Moldova sunt EU", organized by the Bureau for Diaspora Relations, are automatically accepted for participation in the program. As it was in previous years, the priority will be given to those, who earlier did not participate in the DOR program.

This year, 120 children will participate in the program events, which is 20 more than last year. Children from Moldova may also participate in it on the contest basis. The priority will be given to those who have high academic achievements, who are prize winners of sport and cultural tournaments.

Since August 19 through 28 children will participate in artistic, sport, educational and linguistic events, as well as will find out more about the history and culture of Moldova.

The Tiraspol leader expressed readiness to outline his position on all the relevant questions, including the functioning of the 5+2 format, but said that before assessing the today's situation and perspectives of its further development, it would be advisable to study the history of Transnistria-Moldova relations.