SERGIU SIRBU'S FORMER COLLEAGUES COMMENT ON HIS 'BRUISING INCIDENT'
25 march, 2019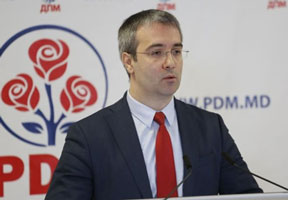 Journalist Alexander Petcov, Sergiu Sirbu's former colleague in the parliamentary Communist faction, maintains that the ex-Communist and currently a brilliant career-maker in the Democratic Party "has received a slap in the face for far from the first time" in his political career.

Commenting on the Thursday's incident that happened to the Democratic Party Deputy Chairman, Alexander Petcov wrote in the social networks that e.g. in March 2012, the then-Communist MP Sergiu Sirbu was accompanying his party comrade MP Inna Supac to the Parliament for a plenary meeting.

"On the eyes of police officers, Inna Supac was attacked by a crowd of outraged citizens just near the entry to the Parliament Building. By the way, Sirbu also received his portion then - real blows in his face, not one slap as yesterday, but, amazingly, he did not lose consciousness and did not receive concussion of the brain then. The police did not actually lift a finger to protect the two lawmakers from the boiling crowd of about 500 angry protesters that were sieging the Parliament, staying meters away from the fisting site", wrote Petcov.

The journalist described yet one more incident that happened to MP Inna Supac. In 2009, she was beaten up by several young women not far from the Parliament.

"And then, too, the police did not view whatever corpus delicti in the attack. As far as I know, the Moldovan legislation has not undergone any changes for this category of offences. If so, we can say that the face of one parliamentarian has become much more valuable to the State than those of other ones", presumes Alexander Petcov.

Political refugee from the incumbent Moldovan ruling regime Grigore Petrenco, Chairman of the Party "Our Home is Moldova" and ex-Member of the European Parliament, who has received a political asylum in Germany, named the slap received by Sergiu Sirbu "perhaps not quite an adequate measure to be used against this gentleman".

Petrenco explained in the social networks today that "compared to the crimes of the Plahotniuc regime, this slap in the face is too small a measure that should be used against all lackeys from the Democratic Party".

According to the data available with him, lawyer Eduard Rudenco, who was together with Grigorciuc yesterday, may also come to be accused against Article 287 of the RM Criminal Code "Act of hooliganism committed by two and more persons".

Petrenco wondered why there still are no video records from the cafe surveillance cameras, and advised Sirbu to stop playing "a cheap theatrical performance".

"Show to the whole nation that you have not lost your dignity to the last drop. Collect your complaint application from police. Don't drive this entire story to absurd. The slap in the face you received from your former party comrade is a good signal for you to think hard", advised Grigore Petrenco.