MAYA SANDU GOVERNMENT FIRES FIRST MoI BOSS
10 june, 2019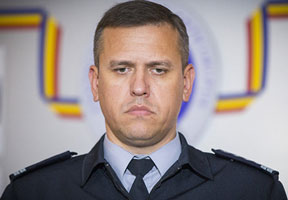 At its first full-fledged working meeting held on Monday, the new Government of Prime Minister Maya Sandu dismissed Alexandru Pinzari, Chief of the Ministry of the Interior General Police Inspectorate.
The just appointed new Interior Minister Andrei Nastase stated at the sitting that Alexandru Pinzari took a direct and active part in the memorable April 7, 2009 post-election events, "and in subsequent year he proved his fidelity to the criminal oligarchic regime of Vlad Plahotniuc and not to the law and order or to the Moldovan Constitution".

On the new Minister's proposal, the Cabinet unanimously voted for giving the vacant post to ex-judge Gheorghe Balan.

On Monday, the new Moldovan Government also discharged Tamara Andrusco, Director of the National Health Insurance Company (CNAM). Minister of Health, Labor and Social Protection Alla Nemerenco stated in this connection that to motivate Moldovan medicine specialists to remain in the native country and to wisely purchase up-to-date medical equipment, public funds must be administered very expertly and efficiently.

"Meanwhile the CNAM money is used not transparently and utterly inefficiently. So we suggest dismissing Tamara Andrusco", said the Minister.