MINISTERS HAVE BEEN SWORN IN, BUT CANNOT START WORKING
11 june, 2019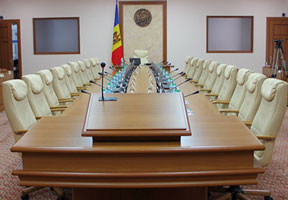 The procedure of swearing in the new Government finished on Tuesday, when Minister of Economy and Infrastructure Vadim Brinzan, Minister of Finance Natalia Gavrilita and Minister of Foreign Affairs and European Integration Nicu Popescu have been sworn in by President, Prime Minister and Speaker of the Parliament.

However, the new Government cannot start working so far due to absence from the country of several ministers, appointed on June 8. On Monday, Deputy Premier for Reintegration Vasile Sova, who was also absent from the country on June 8, underwent the official procedure of swearing in. The rest of ministers were sworn in back on Saturday.

Currently, most of ministries and the Government are still blocked by the police and the Democratic Party supporters. On Tuesday they were moving from one building to another, performed a rotation of picketers, due to which even the traffic on the city main street was temporarily blocked.