PARLIAMENT VOTES FOR CANCELING MIXED ELECTION SYSTEM IN FIRST READING
11 june, 2019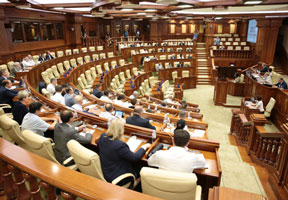 On Tuesday, the Moldovan Parliament approved in a first reading the bill on cancelling the mixed election system and on returning to the proportional representation system, and approved a number of draft amendments aimed at fulfilling the recommendations formulated by international observers shortly after the February 24 parliamentary election.

The bill author MP Sergiu Litvinenco of the Party of Action and Solidarity (PAS) stated that the mixed election system cancellation is necessary because it was introduced despite the strong objections voiced yet two years ago by Moldova's development partners – the European Union and the United States.

"Besides the mixed system cancellation, the bill stipulates also some changes aimed to improve the proportional representation system that existed here until mid-2017. The changes are meant to improve voting conditions for Moldovan diasporas in foreign countries, to restricting donations and for a greater transparency of the funding of political parties and election campaigns", said Sergiu Litvinenco.

Also, the present-day legislation will cease to have provisions stipulating the Certificate of Integrity, but will receive back the so-called 'silence day' (Saturday before the voting Sunday) and a ban on propaganda on the election day. Also, if this bill becomes a law, Moldova citizens staying abroad will be permitted to vote by using not only their RM passports but also the valid Buletins de Identitate [domestic identity cards].

On the motion of MP Lilian Carp, by the second reading the bill may come to have also provisions restoring the old traditional ban on using external propaganda means (billboards, leaflets etc.) on the silence day and voting day.

In his opinion, it is necessary also to toughen punishments for bribing voters, to thus put an end to the awful tradition, when some politicians thus exploit the poverty of their voters – the notorious 'food for ballots' practice.

As was already reported by Infotag, the mixed election system was adopted by the Moldovan Parliament in July 2017 by the votes of the Democratic Party, the European People's Party of Moldova and the Party of Socialists – despite the vociferous objections by the Venice Commission, which recommended to not change the system before approaching elections, but, simultaneously, offered some recommendations to improve the mixed system, which were partly accepted and used.