PAVEL FILIP PROMISES LOCAL AUTHORITIES WILL HAVE NO PROBLEMS WITH PAYING SALARIES TO PUBLIC WORKERS
12 june, 2019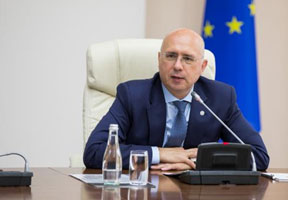 Deputy Chairman of the Democratic Party Pavel Filip met with chairpersons of Moldovan raions in the Government to discuss the situation in the country, calling them to ensure all the necessary support to citizens.
According to the Government, he said that citizens should not suffer from political shows, political fight and polemics.

Filip promised that local authorities will have no financial difficulties in paying salaries to public workers.

"You will receive money, we will transmit it in time, salaries will be paid in time and the started projects will be timely fulfilled", he assured.

Meeting stakeholders addressed to the Government in connection with difficulties they face at the implementation of infrastructural projects on water supply in Cahul and Ungheni raions. Also, the issue of damage from heavy raions in Hincesti and Telenesti raions, was examined.

Filip recommended them to address to the Commission for Emergency Situations for evaluation of damage.

"The sooner you direct all these documents for evaluation, the sooner we take necessary measures and help you", said Filip, who still regards himself to be prime minister, despite the new Government, appointed by the Parliament and headed by Maia Sandu.