PARLIAMENT MAY TOUGHEN PUNISHMENT FOR POWER USURPATION
13 june, 2019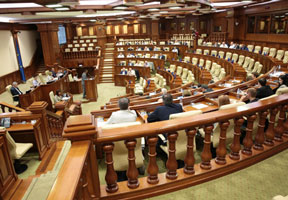 An initiative to toughen the punishment for power usurping in Moldova came from new Minister of the Interior Andrei Nastase on behalf of the ACUM bloc MPs.
He said in the Parliament on Wednesday that in some countries the punishment for power usurpation and high treason is very severe – up to life imprisonment.

"There is nothing more harmful for the country than the power usurping and the deliberate ignoring of the Constitution. This is happening in Moldova now. I propose to Premier Maia Sandu to establish a deadline in the Government for those who hinder the transfer of authority", Nastase said.

He reminded that yesterday a group of police officers publicly stated about supporting the Maia Sandu legal Government and the Parliament, elected on February 24, while today in the morning they were dismissed from posts, whilst their cabinets were occupied by officers of the "Fulger" special forces battalion.

"This is a putsch, initiated by former leadership of the Ministry of the Interior – Alexander Jizdan [MoI Head in Filip Government] and Alexandru Pinzari [head of the national Police Inspectorate, dismissed by the Sandu Government]. In this putsch, the main role is played by the junta of Vlad Plahotniuc, who lost power, but refuses to obey the new legal authorities, recognized by world's most important countries. The situation is explosive, thus I once again call everyone to keep calm and to resume public order. I call on police officers not to participate in the putsch and not to fulfill orders of its leaders – Jizdan and Pinzari", Nastase said.

He proposed to diplomatic missions, accredited in Moldova, to inform their governments about the putsch, organized in Chisinau by Plahotniuc and his Democratic Party in cooperation with power structures, which betrayed people's interests, joining the junta.