LOCAL AUTHORITIES CONDEMN PLAHOTNIUC REGIME AND SUPPORT NEW GOVERNMENT
14 june, 2019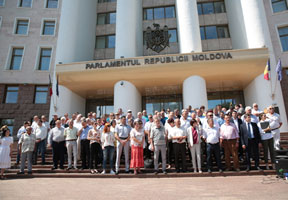 Around 100 representatives of local authorities from Ungheni, Ialoveni, Causeni, as well as from Chisinau suburban communities met for a rally in front of the Parliament on Friday to condemn the activities of Plahotniuc's regime.

The gathered people welcomed the formation of a parliamentary majority and of the new Government, headed by Maia Sandu, and called on the regime to ensure peaceful transition of authority and renounce the escalation of crisis in the country.

Mayor of the Bacioi village Vitalie Salari condemned the diarchy created by the regime and called on all the mayors and officials of local and central administration to support the legitimate authority and the Government headed by Maia Sandu.

"The criminal clique already has neither popular nor legal support. The policy of terror has come to an end. We need joint work with central authorities for the benefit of Moldovan citizens", he said.

Prime Minister Maia Sandu thanked mayors and councilors, who conquered fear and stood expressed support to the new authorities.

"We know about pressure and blackmailing the regime is exerting. No party has the right to do so. We condemn the DP's actions. In our turn, we undertake to ensure proper independence of local administration at the legislative level to broaden the front of work for improving living conditions for residents in each separate locality and raion of the country", Sandu said.