CONSTITUTIONAL COURT CANCELS ALL ITS DECISIONS THAT LED TO DIARCHY AND NON-RECOGNITION OF NEW GOVERNMENT
17 june, 2019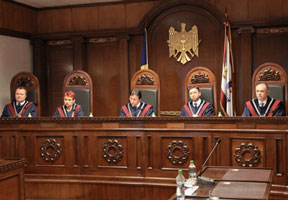 The Constitutional Court of the Republic of Moldova has nullified all its judgments that led to non-recognition of the new Moldovan Government. The Court passed such an unprecedented decision at its extraordinary meeting that lasted about 5 minutes.

According to the Resolution passed, all the CC judgments adopted on June 7-9 were cancelled. Those 6 judgments pertained to interpretation of Article 85 of the Constitution on the timeframe of parliament dissolution and on non-recognition of the Parliament's decision and on shifting of presidential power to Prime Minister Pavel Filip for dissolution of the Parliament.

In its new decision, the Constitutional Court did not indicate the reasons why it has decided to revise it own decisions, which, according to the Constitution, "are final and without appeal". The Court only made reference to Articles 135 and 140 of the Constitution that pertain to the Court's plenary powers and stipulate that regulatory acts lose their legal force from the moment the Court makes its judgment. As always, the Court decision was final and without appeal.

After the Pavel Filip Government had tendered resignation last Friday evening, President Igor Dodon called on Constitutional Court judges to cancel their decisions in question and to bring the situation back into legal field. The Court took such decision thus having dispelled all doubts concerning the legitimacy of the new Moldovan Government headed by Prime Minister Maia Sandu.

President Dodon welcomed the Constitutional Court's decision, and Premier Sandu demanded that the CC Judges must resign.

"I ask the Constitutional Court judges to immediately tender resignation if only they have at least some honor and respect for the Constitution and for citizens of Moldova. Instead of recognizing honestly that the Court participated in the Democratic Party's desperate efforts to remain in power, the CC judges are now justifying their decision with sayings that "the situation in Moldova was such" at that moment. I regard such approach as inadmissible disrespect for the nation's Main Law. The Constitutional Court must make its judgments in conformity with the Constitution and not as politicians order this", stated Maia Sandu.