​APPEALS CHAMBER ACQUITS EX-PARLIAMENTARIAN CONDEMNED FOR ESPIONAGE FOR RUSSIA
20 june, 2019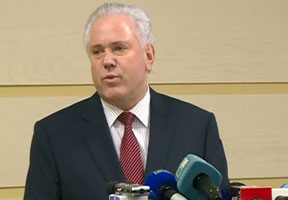 The Chisinau Appeals Court (second-instance jurisdiction) acquitted ex-deputy Iurie Bolboceanu, who earlier was sentenced for espionage in favor of Russia, wrote Russian newspaper "Kommersant".
A corresponding decision was issued on Wednesday. According to the newspaper, the first-instance court verdict was cancelled due to the identified violations of procedure. At the Appeals Court website it is said that the sitting on Iurie Bolboceanu case took place on June 19, but there is no final decision so far.

Ex-MP Iurie Bolboceanu was arrested on March 17, 2017. In March 2018 he was sentenced to 14 years for high treason and espionage for Russia.

Iurie Bolboceanu is accused of being recruited by Russian General Intelligence Department, within the period of October 6, 2016 through March 17, 2017 he was raising and transmitting information of national interest which may have been used against Moldova. The Prosecutor General's Office (PGO) back then stated that the ex-MP was receiving material remuneration for this.

Moldovan special services were tracking Bolboceanu for a long period of time and were fixing their meeting with representatives of the Russian Embassy to Moldova.

Iurie Bolboceanu was member of the Parliament in 2001-2005 and in 2010-2014. In early March 2014, 6 months before his mandate expired, he said he got disappointed in the DP and left the party and the faction. After his mandate expired in autumn 2014, Iurie Bolboceanu was not engaged in politics anymore.

Local analysts regarded his arrest as a revenge of DP leader, oligarch Vlad Plahotniuc for the fact that Bolboceanu demonstratively left the Democratic Party, which was ruling back then.

The Appeals Court cancelled the first-instance decision three days after the DP announced about its transition into opposition in the Parliament.