METROPOLITAN VLADIMIR CONSECRATES NEW CHURCH IN CRICOVA WINE CELLARS
25 june, 2019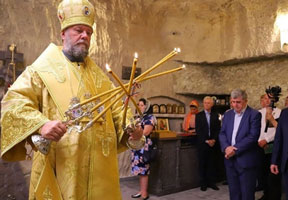 A new church opened in Cricova wine cellars on Sunday. It was consecrated by Metropolitan Vladimir of Chisinau and All Moldova.

The Moldovan Metropolitan Church published a message and a photo report about this event on its website.

According to the reportage, the liturgy was attended by leadership and employees of the Cricova winery.

Within the ceremony, Metropolitan Vladimir gave high awards to priest Sergiu Barbu and Cricova Winery Director Iurie Carp.

After the liturgy, Metropolitan addressed to all present, saying that the consecrated church located in the famous Cricova wine cellars is unique for Moldova.

"Everyone who contributed to designing and opening of this underground church, have put their names in the chronicle of Moldovan Orthodox Church", the Metropolitan said.

According to the message, the new church is interesting not just with its architecture, but also with its special location. It is open for visit for everyone - Moldovans and tourists.

The Cricova wine cellars are the Moldova's second largest wine cellars totaling 120 km of labyrinth roads. The tunnels were formed under the Cricova village in the 15th century due to extracting of limestone for building the city of Chisinau. In 1950 they were transformed into underground wine trade center. Half of the road surface is used for storing wines. The streets of this underground city are named after wines that are stored there. It has its stores, tasting halls and other underground objects. The cellars are up to 100 meters deep into ground and store 1.25 million bottles of rare wines. The oldest wine was produced in 1902. The temperature in cellars is preserved at 12 degrees all the year round.