SOCIALISTS DEMAND TO CANCEL SELLING OF REPUBLICAN STADIUM TERRITORY TO USA EMBASSY
25 june, 2019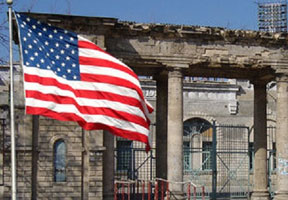 PSRM faction in the Chisinau Municipal Council (CMC) demands to cancel the decision on selling the territory of the former Republican Stadium in Chisinau downtown for building a new US Embassy.

Councilor Alexandru Odintov said at the Monday's briefing that this decision was taken by oligarchic parliamentary majority, formed against people's will, in July 2018.

"In such a way the regime tried to achieve legitimacy in the eyes of partners to get recognition at the international arena. In fact, this may be regarded as a kind of bribe", the Socialist said.

In this connection, Odintov called on Prime Minister Maia Sandu and Minister of Foreign Affairs and European Integration Nicolae Popescu, as well as the current parliamentary coalition to demonstrate political wisdom and not continue the toxic regime's enterprises.

"This decision must be cancelled. The authorities must listen to the Chisinau residents, which will approve the idea of returning the territory under the administration of the municipality", Odintov said.

The Socialist also proposed a compromise variant for resolving this issue, which will be profitable for American partners as well: instead of the former territory, 7000 square meters will be allocated in the immediate vicinity of the Embassy building for its consequent extension, which will mean the considerable saving of funds for American taxpayers.