RUSSIAN DEPUTY PREMIER SAYS PLAHOTNIUC IS A CRIMINAL WHO CAPTURED THE COUNTRY
25 june, 2019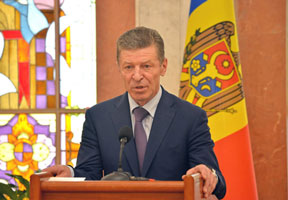 Russian Deputy Prime Minister Dmitry Kozak, the President Vladimir Putin's Special Representative for Trade and Economic Relations with Moldova met with Moldovan President Igor Dodon in Chisinau on Monday. At their joint press conference, the Russian official named ex-leader of the Democratic Party Vlad Plahotniuc "a criminal, who captured the country".
Talking about the political crisis Moldova recently faced, Kozak expressed satisfaction that it concluded peacefully.

"This was the Republic of Moldova's internal problem and we are happy that it ended in this way. Moldova was captured by a criminal, who is guilty that relations between our countries were frozen. I think that theoverwhelming majority of republic citizens are satisfied that he left the country", Kozak said.

Answering to journalists' questions, he confirmed that the criminal proceedings against Plahotniuc in Russia continue.

At the journalists' questions about who proposed the plan of federalizing Moldova - Dodon or Plahotniuc - the Russian deputy premier said that this was Plahotniuc's idea.

"As I said, when I was here [June 3], Plahotniuc transmitted the plan of federalization. This was his proposal in exchange for PSRM's consent to create a coalition. We neither proposed nor discussed this", Kozak said.

Igor Dodon was asked about the Plahotniuc's resignation from the post of the Democratic Party and said that this concerns exclusively the party, while the president should not be interested in who leaves or who comes to leadership of political parties.