SCM DEMANDS DISMISSAL OF CORNELIU GURIN FROM CC
25 june, 2019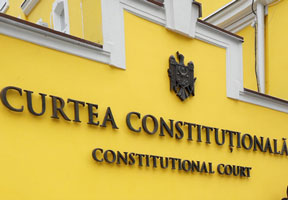 The Superior Council of Magistrates demanded dismissal of Corneliu Gurin from the post of Constitutional Court Judge. The SCM members took such a decision immediately after Prime Minister Maia Sandu had addressed to them coming to the court sitting on Tuesday morning.
She expressed reproaches to judges, including the Constitutional Court. The premier reminded about the Venice Commission's decision, which toughly criticized the CC's latter decisions.

Acting Chairman of the SCM Dorel Musteata proposed to dismiss Gurin, who was nominated by the Council to the CC.

"We propose Corneliu Gurin to tender resignation from the post of Constitutional Court judge", the SCM statement says, which also proposes the CC to conduct investigation of violation by Gurin of his functional responsibilities.

Gurin was appointed as member of the CC in December 2018 after early canceling three CC judges. The SCM was also presented in the CC by ex-Chairman of the CC Mihai Poalelungi, who tendered resignation last week. Two more judges were appointed by the Parliament and two – by the Government.