SOME PEOPLE WANT TO PROFIT FROM SORROW OF PEOPLE WHO LOST HOUSING IN OTACI – PREMIER
10 july, 2019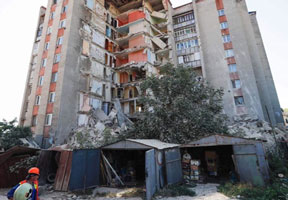 The prices on housing sharply grew immediately after the Government announced about the compensations to be provided to people, who lost their housing due to collapse of an apartment house in the Otaci town in Ocnita raion, said Prime Minister Maia Sandu, pointing that some companies decided to profit from others' sorrow.

She said that a special commission is currently assessing damages and holding discussions with the collapsed building tenants to establish the sum of compensations, which will be established within several days. According to preliminary calculations, the price for a two-room apartment accounts for 212 thousand lei, while for three-room apartment – 227 thousand lei.

"Currently, the neighboring block of the building is assessed, after the first was demolished. For expertise, specialists from the Technical University were hired, who asked for 15 days to conclude the assessment and establish the fate of this building", Sandu said.

Besides, the premier said that the Government will provide 5 million lei to the Basarabeasca raion for liquidating the consequences of heavy rains with hail.