​DESPITE HIS RESIGNATION, HARUNJEN MUST ALL THE SAME BE TAKEN TO JUSTICE – PREMIER SANDU
11 july, 2019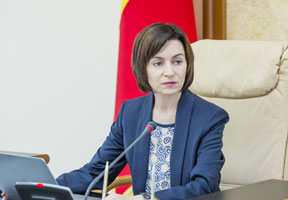 Commenting on the Thursday's dismissal of Prosecutor General Eduard Harunjen, Moldovan Prime Minister Maya Sandu stated that despite his stepping down, Harunjen shall all the same stand justice for his doings.
The Premier wrote in the social networks today that Harunjen must bear responsibility for the opening of political litigations, for his inactivity with respect to various criminal schemes run by the previous oligarchic regime, for the absence of progress in the investigation of the bank fraud, for taking over the businesses of those people who dared say 'no' to the Plahotniuc regime, "and for many other things committed personally by Harunjen or under his direct guidance".

Sandu emphasized that the new Prosecutor General to come must be incorruptible and therefore independent, "must be free of whatever political or other interests so as to be able to bring to responsibility those involved in embezzling of public funds etc. and to start a reform of the prosecution service in earnest. We have no right to repeat our old mistakes".