AMBASSADOR OF TURKEY SAYS PEOPLE CAME TOGETHER TO PROTECT THEIR RIGHTS AGAINST PERPETRATORS OF COUP ATTEMPT
12 july, 2019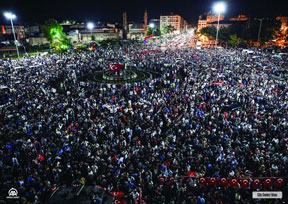 On 15 July it has three years since Turkey faced the bloodiest terrorist attack in the country's history, Extraordinary and Plenipotentiary Ambassador to Moldova Gürol Sökmensüer said.
In his words, "the perpetrators targeted the democratic institutions and elected leaders, bombed the presidential complex, police and intelligence headquarters, while civilians came out to resist the coup".
"Putting their all differences aside, regardless of whom they support politically, Turkish people came together to protect their democratic rights against the perpetrators of an heinous coup attempt. All intelligences, evidences and testimonies collected after this terrorist attack affirmed that the group, known as Fethullahist Terrorist Organization (FETÖ), organized it" said the Ambassador.
According to him, "FETÖ is directed by primary school graduate Fethullah Gulen."
"FETÖ promotes itself as a provider of education and its members introduce themselves abroad as volunteers of education and peace. They conceal their real identities and infiltrate into the critical state institutions like army, judiciary, security and intelligence units. We have destroyed the backbone of the organization in Turkey with the measures we have taken. However the threat is still alive in many countries. In order to defeat this type of terrorism, international solidarity is highly crucial", said Gürol Sökmensüer. (Read more about this on the Infotag website - www.infotag.md - under the heading "Press Release").