TEAM ENGAGED IN BANK FRAUD INVESTIGATION TO BE EXTENDED
16 july, 2019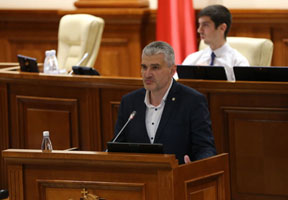 The team, working on investigating the stealing of a billion of dollars from the Moldovan banking system, will be considerably extended due to the attraction of specialists from other competent structures.

According to the Prosecutor General's Office (PGO) press service, until recently the fraud has been investigated by detectives from the PGO, the Anticorruption Prosecution, the Criminal Assets Recovery Agency. Now, they will be joined by investigators from the MoI divisions, the Information and Security Service (ISS), forensic experts and accounting experts from the National Bank of Moldova (NBM) and the National Commission for Financial Market (NCFM). Members of the team will be exempted from other work to focus on investigating the bank fraud.

For revitalizing the activity on returning the stolen funds, as well as getting the necessary materials from abroad, joint groups with EUROJUST specialists were formed. It is supposed that they will be helping to file lawsuits abroad or requests to competent authorities.

The investigation group will also be cooperating with development partners, from which they intend to get assistance for returning funds on which court verdicts have already been delivered. For establishing all the circumstances, connected with the bank fraud, the team submitted requests to responsible structures in Russia, Latvia, Italy, the USA, France, Austria, the Czech Republic, Cyprus, Switzerland, Estonia, Liechtenstein and Monaco. Responses came to 6 of these, partial response – to 5 requests, while 9 requests have not been responded yet. The PGO Division on International Cooperation will be proposed to accelerate the fulfillment of letters of instructions addressed to other states.

The press release says that the cost of government securities, issued for covering urgent credits, provided by the NBM to the Banca de Economii, the Banca Sociala and Unibank, accounts for 13.34 billion lei. 197 criminal cases were started against criminals, who withdrew money from banks. In total, property of those involved in the fraud worth 3 billion lei was arrested. As of June 15, the sum of the returned money accounted for 2,276 million lei. 1,203 million lei accounted for bank assets and 1.073 million lei is the cost of property withdrawn by bailiffs.