DA ACTIVIST'S SUPPORTERS BLOCK ENTRANCE TO CHISINAU APPEALS COURT
18 july, 2019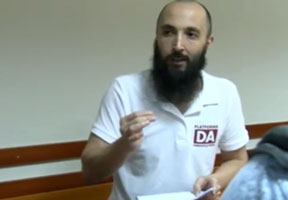 About one hundred supporters of convicted DA Platform activist Gheorghe Petic blocked the entrance to the Chisinau Appeals Court, outraged by the fact that the court denied his lawyers to change the measure of restraint.

Before the court hearing, dozens of indignant people tries to stay in the courtroom despite the fact that it was announced closed. Petic wore a white T-shirt with DA logo. The crowd chanted "Down with the mafia", "Long live impartial court", "Freedom!". He climbed up on a bench and shouted "There is no free justice in Moldova" and refused to go back to the prison. After a few minutes of disputing with the judges he asked his supporters to leave the hall, but to block all the exits.

Petic spoke with MP Chiril Motpan, then urged everyone to calm down and come again to the next court hearing on Thursday. He stressed that "even in prison he is free". Gheorghe Balan, acting Chief of General Police Inspectorate supported Petic's proposal.

On March 20, the Orhei Court sentenced Petic to 3.5 years in jail on charges of rape. Another case against Petic was initiated on the fact of hooliganism with the use of weapons, committed in 2004. Petic claims that this was self-defense against the attackers.