DEMOCRAT CRITICIZES GOVERNING COALITION
24 july, 2019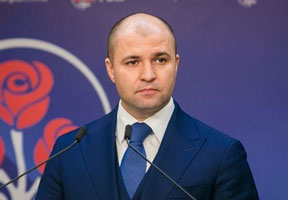 Vladimir Cebotari, the deputy chairman of the parliamentary DP faction, strongly criticized the actions by the governing PSRM/ACUM majority, stating that "the country has never seen anything of this kind, even during the Communist rule [2001-2009]".

Cebotari stated at a press briefing on Wednesday that what the majority coalition is doing these days is not de-politicization of state institutions: "They are re-scissoring the legislation and are appointing their representatives at key state posts".

"They have amended the law in a way that now the Prosecutor General's Office may be headed by a political appointee. The same applies to the Central Election Commission. Presently, coalition representatives are arguing about the Constitutional Court, in which the ACUM bloc will have more judges than the Socialists", said the former Minister of Justice.

Vladimir Cebotari hopes the coalition will not resort to revanchist methods "because they are in fact fighting not against the Democratic Party but against the people of Moldova, who may get disappointed with the new authorities fairly soon".

Commenting on the appeal made by Minister of the Interior Andrei Nastase to lift parliamentary immunity from MP Plahotniuc, the former justice minister offered an opinion that "this is beyond Nastase's scope of powers".

"But each person who breached the law must bear responsibility. The Democratic Party has always advocated the idea of holding honest and transparent investigations into law violations, but not indeed a witch hunt like now", said Vladimir Cebotari.

He said that his party comrade, former Parliament Speaker and DP Deputy Chairman Andrian Candu is now outside the country, "but his soul constantly hurts about Moldova".