HoReCa REPRESENTATIVES DEMAND PARLIAMENT TO RENOUNCE VAT RAISING
15 august, 2019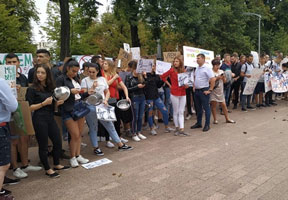 Over one hundred of employees of restaurant and hotel businesses (HoReCa sector) are holding protest in front of the Parliament against the leadership's intention to raise the VAT rates to 20% from 10%.

Protesters, mostly young people under 25 are holding banners with inscriptions: "We want to live and work in Moldova!", "Not 20, but 10!", "We need work at home!". They brought empty bowls and were knocking on them with spoons and knives.

Protesters are sure that Maia Sandu Government's initiative was taken under the influence of the International Monetary Fund (IMF).

"The Sandu Cabinet wants to get these billions from the IMF so much, that it is ready to fulfill everything donors propose. However, the 20% rate will simply kill the restaurant sector. In Romania this rate is of 5%, while in France – 6%. Why our pro-European authorities do not follow these examples, but are looking in the mouth of the IMF?", wondered one of protesters.

According to him, the branch workers are massively leaving abroad as they have no interest to work in Moldova for pitiful wages.

"Moldova has no sea, neither mountain. What can we propose to tourists? Tasty food, good wine and beautiful nature. Otherwise, we will be unable to stand competition with other countries", he maintains.

As Infotag has already reported, the VAT rate for the HoReCa was halved by the previous Government in 2018 for taking the enterprises from shadow and raising the revenues to the budget. However, according to the new Government, this has never happened and the leadership intends to return to the previous taxation rate.