EX-MINISTER OF ECONOMY INTENDS TO SUE INCUMBENT DEPUTY SPEAKER
15 august, 2019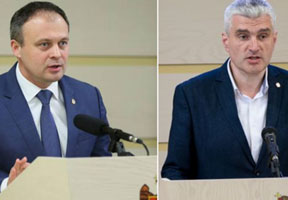 Democrat MP, ex-Minister of Economy Andrian Candu intends to file a lawsuit against Deputy Chairman of the Parliament Alexander Slusari for calumny.

At the Thursday's briefing Candu expressed disagreement with Slusari's accusation of former government members of negligence in relation to the theft of the century.

"In 2014 the Government provided guarantees on issuing credits by the NBM to three problematic banks (Banca de Economii, Banca Sociala and Unibank) due to the need of compensating losses to all the depositors. However, the money was issued only after external administration was introduced in banks. The NBM got control over them to prevent new violations. Thus, one cannot talk about any stealing of funds from the credits received from NBM", said the ex-minister, who according to Slusari was the main initiator of providing government guarantees.

Candu said that this step of the Government was the best decision in that situation, grounded on conclusions of best financial crises experts of the International Monetary Fund and the World Bank, who were present in Moldova since 2014 [NBM credits were provided in early November and according to conclusions of parliamentary investigation commission, the external administration in the three banks was introduced just two weeks later, when the money already disappeared from accounts].

"Besides, this was a collective decision, and all members of the Cabinet of Minister were solidary with it, no one stood against, even the current Prime Minister Maia Sandu [which was holding post of Minister of Education back then]. Thus, all members of the Government are responsible for this step", the Democrat said.

He maintains that the parliamentary investigative commission has to prepare a report that must be discussed and approved at legislature sitting.

"Statements of this person – Slusari [commission chairman] – can be regarded as nothing else but political speculations, which denigrate me and my colleagues and have no legal grounds. Thus, soon I will submit a lawsuit to court to demand compensation for the caused damage", Candu promised.