AVIA INVEST COMPANY CHANGES ITS OWNER AGAIN
20 august, 2019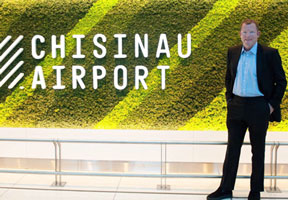 The Avia Invest company, which received the Chisinau International Airport in concession, has again changed its owner. According to international media, the transaction on buying 95% of company shares was conducted on Monday.

According to reports, the buyer is the NR Investments Ltd company – an investment company in the field of immoveable property, located in Norman Islands. For conducting the transaction, the company owner Nat Rothschild came to Chisinau.

"The activity and administration of Chisinau International Airport were transmitted to the concessionaire – the Avia Invest – in November 2013 within a program of public-private partnership within which the three-stage investment program was established during 6 years. Over this time, the Avia Invest completely modernized the airport, including the creation of an intellectual passenger terminal, modernization of the airstrip and the platform, building of a multilevel parking and other improvements of airport infrastructure", the buyer company says.

The company press secretary Alison Chambers refused to tell the cost and other details of the transaction. She said that in September the NR Investments will present new details about the plans on buying Avia Invest and further development of Chisinau airport.

The NR Investments is specialized in investments in infrastructure and real estate. The previous investments include Porto Montenegro Marina; a complex of fiml studios Korda Studios in Budapesta (Hungary), as well as many independent projects all across the region.

Advisor to Moldovan Prime Minister Cristina Bujor said that the state was not asked for permission to conduct this transaction.

"This is not provided in the concession agreement, signed by previous Governments. We keep insisting on prosecuting those who are guilty of airport concession, conducted in a non-transparent way and of breaking state interests", Bujor said.

The Chisinau airport was offered into concession to the Avia Invest company in 2013 for 49 years. Since then, the company has several times changed its owners. The new Government and the Parliament started investigation of the concession. They do not exclude that the transaction, conducted with numerous violations, may be cancelled.