​PRESIDENT WELCOMES FAST BUILDING OF STADIUM IN COMRAT
22 january, 2020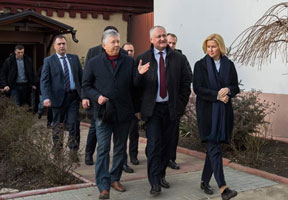 President Igor Dodon, who is visiting Gagauzia on Tuesday, applauded the rapid pace of building the stadium in Comrat, financed by the Turkish Government.
The grand opening is planned for summer 2020. The stadium will have a capacity of 5 thousand seats, while the gym, which is built nearby is designed for 120 people.

"I thanked our Turkish friends for assistance in implementing projects in the Republic of Moldova and in Gagauzia in particular. I expressed confidence that local sport fans will appreciate the object", Dodon said within his trip.

He also visited the enterprise "Wines of Comrat". The company includes three factories and over 400 ha of vineyards, where 160 people are working. The line of company produce includes over 50 denominations, exported to such countries as Poland, the Czech Republic, Romania, Slovakia, Latvia. Lithuania. Estonia, Russia, Ukraine, Kazakhstan, China, Japan.

"I visited several production facilities, welcomed the workers and positively assessed the successful activity of the plant. I also assured the administration and employees that the country authorities will be giving particular attention to domestic producers and to extension of sales markets for their goods", the president said.

As Infotag has already reported, during the visit to Moldova in October 2018, Turkish President Recep Tayyip Erdogan traveled to Gagauzia by helicopter that came from Turkey specifically for this. During the landing at the Comrat stadium, the helicopter damaged one of its buildings. Erdogan promised to build a new stadium in Gagauzia.