OLIGARCHIC REGIME VICTIMS DESCRIBING IN STRASBOURG VIOLATION OF HUMAN RIGHTS IN MOLDOVA
28 january, 2020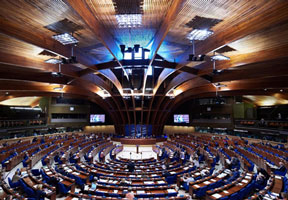 Members of the Dreptul la Dreptate [The Right to Justice] Association of Political Prisoners and Oligarchic Regime Victims – civil society activist Pavel Grigorciuc and lawyer Eduard Rudenco are in Strasbourg, where the Parliamentary Assembly of the Council of Europe is holding its Winter Session this week.
Grigorciuc wrote on his Facebook page today that the objective of their trip is to bring to the PACE's knowledge true information about how human rights have been observed in Moldova in the recent period of time.

He reminded that PACE deputies had repeatedly stood up during the Plahotniuc regime period with statements to release political prisoners in Moldova.

"We demand that sanctions be used against those state officials, judges and prosecutors who violate human rights in Moldova. In the course of our meetings with European parliamentarians at the Session's working meetings, we will tell them that the political litigations, which the European lawmakers spoke about yet long ago, have not been closed down in Moldova until the present time. Political prisoners are remaining in custody. Many activists are not permitted to go outside Moldova. Some citizens still have their personal property under arrest, and bans on running entrepreneurial or political activities would not be lifted. In the nearest days, we will hold meetings with the Council of Europe leadership and with all PACE political groups", wrote Pavel Grigorciuc.

As was already reported by Infotag, the Parliamentary Assembly of the Council of Europe commenced its Winter Session in Strasbourg on Monday to work until the end of January. It is being attended by a Moldovan parliamentary delegation. On Wednesday, Moldova President Igor Dodon will make a 20-minute-long address to the European forum.