PARLIAMENT IMPOSES STATE OF EMERGENCY THROUGHOUT MOLDOVA UNTIL MAY 15 DUE TO CORONAVIRUS PANDEMIC
18 march, 2020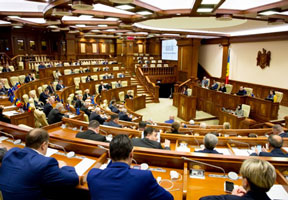 The Parliament of Moldova has imposed a state of emergency through the territory of the republic to last from March 17 to May 15 due to the coronavirus pandemic. The decision was approved by all the deputies, who have gathered for an extraordinary plenary meeting on Tuesday.
Before adopting the parliamentary Resolution on imposing the emergency, the Parliament approved several amendments to the 2004 Law on a State of Emergency, in particular excluded the provision that the Parliament may not adopt or amend organic laws or during a state of emergency.

"According to the provisions of this Law, in the conditions of a state of emergency citizens' rights are restricted. The Parliament is eligible to act and decide and to delegate plenary powers to emergency commissions, adopt laws and introduce amendments to laws. During a state of emergency, the Parliament may not pass constitutional amendments", explained Minister of Justice Fadei Nagacevschi.

The parliamentary majority agreed with the arguments put forth by the opposition and renounced its initial intention to cancel the ban on holding elections during emergency periods. So, according to the 2004 Law, elections or referenda may not be held in Moldova in such emergency periods.

The opposition was insisting on imposing this state of emergency for 30 days in apprehension of an excessive restriction of citizens' rights and freedoms, possible abusing of power and the like. But the parliamentary majority did not agree and supported the Government's proposal - 60 days. "We suggest introducing a state of emergency for 60 days, proceeding from general situation in Europe, which is pretty alarming. We cannot know what will be in a couple of weeks or in a month, or whether or not we will be able to come to the Parliament to demand an extension. I will be only happy if the CoV situation improves and we can cancel the emergency", said Prime Minister Ion Chicu.

He assured the forum that the Government is not going to introduce restrictions of citizens' rights and freedoms, or to restrict the freedom of speech or media.

"But we shall be curbing the spreading of panic, lies, misinformation and provocations, and will be punishing such provocateurs", stated the Premier.