EMERGENCIES COMMISSION TOUGHENS ANTI-VIRUS MEASURES
24 march, 2020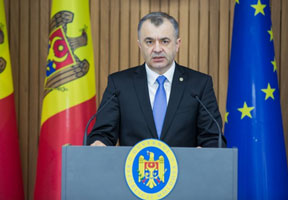 The National Commission for Emergency Situations has approved a number of new measures to curb the COVID-19 spread in Moldova.

On Monday evening, Prime Minister Ion Chicu signed and made public the Commission's Directive saying, in particular, that starting from March 25 persons aged 63 and older are prohibited to leave their homes except in instances of urgent need.

Also from Wednesday, all citizens will be prohibited to visit public places such as parks, forests, playing and sportive grounds, recreation zones etc. Control over the observance of the Directive shall be entrusted to the Interior and armed forces personnel.

Gas filling stations shall stop rendering public catering services. Premier Chicu said in this connection: "Most of filling stations render other services besides refueling. Now they shall be prohibited to offer even coffee. Prevention of human gatherings is the best method to stop coronavirus".

The Commission also decided that starting from April, pensions and social allowances will be repaid by using home delivery, so as to prevent the accumulation of the elderly in post offices and banks.

"We shall provide to the old people everything they need. And they should simply stay at home throughout this period", said Ion Chicu.

According to the Directive, all-republican, municipal and raional public medical and sanitary institutions have been authorized to purchase (within 800,000 lei) medicines and medical items necessary for combating and preventing the COVID-19 infection.

Until June 1, Moldova has imposed a moratorium on the state-run control (tax and financial one) of production quality. But this moratorium does not apply on control actions run within the framework of criminal prosecution; run by the National Bank, by the Accounts Chamber, by the National Commission for Financial Market with respect to individuals and legal entities running insurance activities, and in a number of other instances.

The deadline for paying the income tax by individuals has been extended until May 29.

The Commission has permitted the following charter flights to deliver home the Moldovans staying in foreign countries by the Air Moldova Company on March 24 and 25: Chisinau-Paris-Chisinau and by FlyOne Company on March 25: Chisinau-London-Chisinau and March 26: Chisinau-Istanbul-Chisinau and Chisinau-Moscow-Chisinau.