PREMIER CHICU SAYS MEDICAL EQUIPMENT AND CONSUMABLES WILL COME FROM CHINA NEXT WEEK
09 april, 2020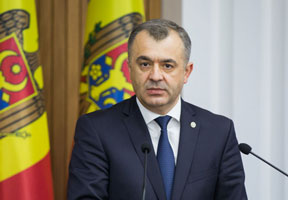 Moldovan Prime Minister Ion Chicu has announced that medical equipment and consumables for anti-virus struggle will be delivered here from China next week. The Government is organizing a charter flight for this, Chicu wrote in social networks on Thursday.

The Premier accused the Mayor of Balti city, Our Party leader Renato Usatii of his interference and "attempts to hinder the supplying of the country with the products so important for citizens' health and lives". Chicu refuted Usatii's assertions that the Government is allegedly going to purchase 2 million protective screens at a higher price.

"Three weeks ago, the National Center for Public Health Purchases concluded a contract for buying 200 thousand protective shields. Announcement of the tender was posted well in advance, but only one company applied for the tender. The contract-stipulated price of the washable shields is 54 lei a piece, with payment after delivery. But until the present moment, nothing from that consignment has been delivered here because everything shipped from China by that company just disappears en route… Accordingly, the State Budget has not spent anything from the reserved sum", said Ion Chicu.

The Premier ironically commented on Renato Usatii's readiness to sell his Rolls-Royce "in order to bring to Moldova protective shields for 1 euro [19 lei] a piece".

"The Government is ready to pay 54 lei a piece to the owner of this Rolls-Royce coach, if he delivers in 5 days the number of the shields, indicated in the above-mentioned contract. If not, the Center will sue him in court for slander", said the Prime Minister.

Ion Chicu expressed gratitude to the companies and universities that have started the production of protection means – masks, suits, shields etc.

"We will buy absolutely everything you manage to produce, if your products meet the World Health Organization standards. I know that you have run out of raw materials for the manufacturing of protective shields. We are working to de-block the imports of such materials from countries of the region. Next week, the Government will organize a charter flight from China to deliver the purchased tests, shields, masks and other equipment and consumables", said Premier Chicu.

Speaking on the local television on Wednesday, Renato Usatii accused the Government of buying protective means in large amounts at overrated prices by engaging "certain" companies. Usatii stated preparedness to pay for a charter flight to China so that economic agents could deliver medical equipment and consumables on board such airplane. Renato Usatii stated he is ready to sell his Rolls-Royce, which is estimated at 300 thousand euros, to pay for the flight costing 210 thousand euros. At the same time, he complained that the authorities would not permit businesses to collaborate with him and to avail themselves of his proposal.