EACH THIRD MOLDOVAN BELIEVES CORONAVIRUS WAS SPECIALLY SPREAD TO UNDERMINE WORLD ECONOMY – OPINION POLL
09 april, 2020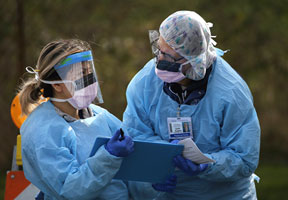 Nearly one-third of Moldova citizens, namely 32%, believe that COVID-19 was deliberately spread to provoke an economic crisis in the world, as per the results of the public opinion research carried out by the Moldovan Institute of Marketing and Opinion Surveys (IMAS) that were presented on Thursday.

According to the research, 26% interviewed citizens presume that coronavirus was created in military laboratories. Approximately the same number of respondents believe that the source of the virus are the traditional markets in China where live fish and animals are sold, 44% are sure that coronavirus is being purposefully distributed around the world by interested political and/or military forces, and only one-third respondents believe COVID-19 spreads by itself due to purely medical and biological reasons. Sixteen percent respondents failed to answer anything definitely.

The IMAS research revealed that an overwhelming majority of citizens (83%) feel much more secure in Moldova than in any other country in the current situation with the virus. However, 9% have a different opinion, and 8% were uncertain.

Nearly 42% respondents believe that the Moldovan Government and health authorities are acting better in the coronavirus crisis conditions than other nations, 32% think that Moldova is acting like other countries, and 18% believe – worse than other governments.

The opinion poll was carried out by order of the Public Media company on March 31 through April 8 by means of telephone interviews taken from 1020 respondents. The pollsters are saying the error should not be in the excess of ±3%.