MOLDOVAN HEALTH MINISTRY IS INTRODUCING NEW FORMS OF TREATMENT FOR CORONAVIRUS
09 april, 2020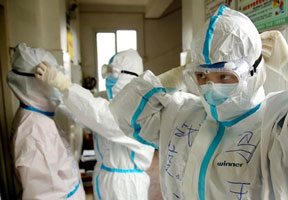 The Moldovan Ministry of Health, Labor and Social Protection is ready to start introducing new forms of treatment for coronavirus. The introduction proper will start tomorrow, on April 10, Minister Viorica Dumbraveanu announced to journalists in the course of her online video press briefing held on Thursday.

"Ministry specialists have worked out a package of measures to relieve our public health system, which is overloaded in the current hard period. It was decided that patients with light COVID-19 forms will be taking courses of treatment at home under family doctors' supervision and, therefore, will be receiving all the necessary primary medical assistance", said the Minister.

According to her, the COVID-19 distribution hospital, created specially for this at the MoldExpo Center in Chisinau, will start working at 8 am on Friday.

"This new facility will permit to substantially relieve our hospitals and other regular health institutions, which heretofore had to run not only the treatment and hospitalization activities but also had to examine the arriving potential patients – all those who had even slightest suspicion for coronavirus. Starting from tomorrow, this huge portion of work will be done by the distribution center. If need be, we will create more such centers to prevent the overloading of regular hospitals", said Viorica Dumbraveanu.

In her words, CoV analyses will now on be done not only by the central Chisinau laboratory but also by some private clinics in Chisinau, as well as in Balti, Cahul, and at the Republican Clinical Hospital.

Ministry expert Tatiana Zatic said that the MoH had prepared special instructions for doctors on how they should act upon the introduction of the new treatment forms. In her words, all doctors have undergone a special instructions course. The Ministry has prepared a video film with recommendations for those taking treatment in domestic conditions.

"We have also approved documents determining strict criteria for hospitalization. In particular, subject to compulsory hospitalization are patients having chronic diseases, the elderly having certain diseases, children and pregnant women", said Dr. Zatic.