​MOLDOVA TO CANCEL MOST OF PANDEMIC-CAUSED RESTRICTIONS FROM JUNE 1
25 may, 2020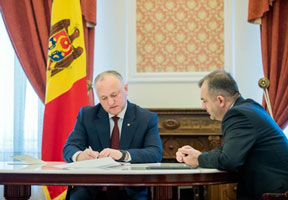 Most of the restrictions, introduced in Moldova due to the COVID-19 pandemic, will be cancelled from June 1, President Igor Dodon stated to the press following his weekly Monday meeting with Prime Minister Ion Chicu.
"We discussed the current epidemiological situation in the republic. Last week, an 8.9% fall in COVID-19 morbidity was registered. The number of recovered patients grew up by 2.9 times, and the number of deaths fell by 7%. Such positive dynamic permits to proceed to a new stage of cancelling of restrictions", said the President.

In his words, the National Commission for Emergency Situations will be proposed to open the central municipal food markets in Chisinau and Balti, shopping centers, sports halls, hotels and restaurants, and to resume international passenger transport.

"If the Commission accepts this proposal, there will remain only the prohibition of the work of educational institutions and kindergartens and a ban on assemblies of 50 or more people", said President Dodon.