LANGUAGE OF ULTIMATUMS IS UNACCEPTABLE FOR GOVERNMENT, PREMIER CHICU SAYS TO VETERANS
05 june, 2020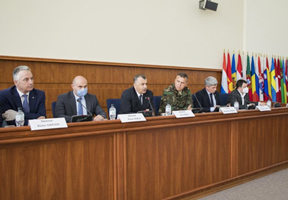 The Moldovan Government firmly intends to further tackle armed conflict veterans' problems, but only through dialog because the Cabinet does not accept the language of ultimatums, Prime Minister Ion Chicu stated during the Thursday's sitting of the National Council for War Veterans' Affairs.
Chicu stressed that the Council must remain a politically neutral platform for handling all arising veterans' problems.

"Of course, it is impossible to resolve all problems at once, particularly in the conditions of the current pandemic year that has added yet an economic crisis for us. But even in such extraordinary conditions, dialog is a road to success", said the Prime Minister.

Chicu said that a Bureau for Veterans' Affairs is being created within the framework of the State Chancellery Office. The Bureau will be subordinate to prime minister. Veterans are requested to delegate their respected, competent and wise representatives to work in it.

Lately, the Government of Moldova undertook a range of measures to ensure a better social protection for veterans. Thus, starting from past January 1, monthly extras to war veterans were increased from 100 lei up to 300 lei. And from the upcoming July 1, the monthly allowance to veterans' widows will be doubled to reach 500 lei. Also, a bill has already been drafted on providing health insurance policies to non-working vets.

The Council discussed also the question of issuing new-type War Veteran Cards. According to official information, the Government has confirmed the official war veteran status with 20,954 people. With 3400 persons the status has been suspended, and 88 Cards were withdrawn and cancelled.

As was already reported by Infotag, last Sunday about 200 veterans of the 1992 armed conflict on the Dniester came out into the Chisinau central square for an action of protest, during which the participants began chanting political slogans like "Down with Igor Dodon", "Down with the Socialist junta" and the like. Amid the crowd, there were the leaders of unionist pro-Romania parties – Democratia Acasa [DA, Democracy at Home] and Vointa Poporului. Among the veterans' social demands were: a monthly 1700 lei allowance, state-provided assistance for the organization of honorary funerals, free medical treatment and free medicines for vets and their family members, a pension age of 55 years.