PRIME MINISTER DISCUSSES EPIDEMIOLOGICAL SITUATION WITH UN AND WHO REPRESENTATIVES
07 july, 2020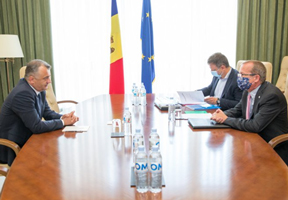 Prime Minister Ion Chicu has discussed the development of the epidemiological situation in Moldova with Igor Pokanevych, Head of the WHO Regional Office and Simon Springett, UN Resident Coordinator.
According to the Government, they pointed out that experts are concerned about the COVID-19 pandemic development in the world, which shows that public educational measures are needed. The spread of the infection is determined by people's careless behavior, and to prevent transmission of the disease, it is necessary to adopt standards recommended by the epidemiologists at the society level.

Pokanevych and Springett appreciated the efforts of the Ministry of Health in the fight against the pandemic crisis and confirmed their readiness to support the Moldovan healthcare system.

The Head of the Moldovan Government thanked the WHO and the UN for the support provided to the republic in the process of managing the epidemiological situation.