VESSEL TRANSPORTING SALTPETER SEVEN YEARS AGO IS NOT UNDER MOLDOVAN FLAG AWAY BACK - WATER TRANSPORT AGENCY
06 august, 2020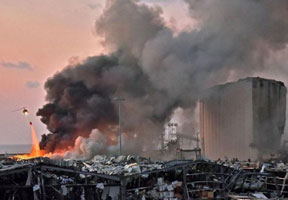 The ship that transported saltpeter seven years ago has not been under the Moldovan flag for a long time, the director of the Agency for Water Transport of the Republic of Moldova, Igor Zaharia said.
"The information is incomplete. This ship has long been out of our flag. It does not matter what flag the ship was under. The fact that the cargo caused some consequences after, like this explosion, does not mean that the ship is somehow to blame for the fact that the cargo was not properly stored in the port. And it doesn't mean that the flag is to blame," Zaharia said.

The day before, there was a powerful explosion at an unequipped warehouse in the port of Beirut, where 2,750 tons of ammonium nitrate (ammonium saltpeter) were stored. The explosion killed more than 100 people, injured several thousand, damaged buildings in about 30% of the Lebanese capital.

The Ministry of Foreign Affairs and European Integration of Moldova said on Wednesday that there is no data yet whether there are citizens of the Republic of Moldova among the victims and those killed in Beirut.