HEALTH MINISTER BELIEVES COVID-19 RESTRICTIONS COULD BE TIGHTENED
23 september, 2020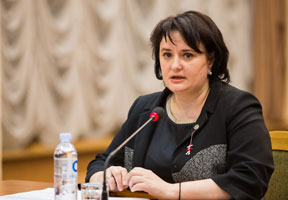 Health Minister Viorica Dumbraveanu believes that restrictions due to COVID-19 can be tightened, but quarantine will not be imposed. She said this on Tuesday evening during the program "Punctul pe azi" on TVR-Moldova.

"We can return to stricter restrictions if the epidemiological situation is not favorable," Dumbraveanu said.

According to her, the deterioration of the situation with the spread of the virus is due to the fact that the population does not comply with restrictions.

"We still have restrictions on children's presence in playgrounds, on walks of groups of citizens. The Interior Ministry cannot walk indefinitely with a truncheon, the police should not constantly issue fines," the minister said.

In her opinion, it is impossible to introduce quarantine in Chisinau or other large settlements where there is a high level of the virus spread.

"It makes no sense to introduce restrictive measures throughout the country, if the situation in some areas is not a cause for concern. Restrictive measures at the national level will affect education and business. We cannot provoke an economic collapse," she said.