CEC TO OPEN 139 POLLING STATIONS IN FOREIGN COUNTRIES…
28 september, 2020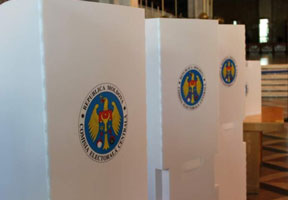 The Republic of Moldova's Central Election Commission has decided to open in foreign countries 139 polling stations for the presidential election to be held on November 1.

The Commission explained that the decision had been taken in line with the Moldovan electoral legislation and upon an approval by the country's Ministry of Foreign Affairs and European Integration.

Initially, the CEC applied to the Ministry with a request to open 202 stations abroad. But the Ministry reported that it had received from foreign countries concerned their consents for opening only 139 polling areas that will be organized in Moldovan embassies and consular offices in capital cities as well as in other populated areas.

The largest number of polling stations will be organized in Italy – 31, in Russia – 17, Romania – 13, in the United States – 12, France – 8, Great Britain – 7, Germany – 6, Spain – 5, Canada and Republic of Ireland – 4 each, and in Portugal 3.

Two polling stations each will be opened in Belgium, Israel, Turkey and Ukraine. And one station each – in Austria, Azerbaijan, Belarus, Bulgaria, the Czech Republic, China, Cyprus, Denmark, the United Arab Emirates, Switzerland, Estonia, Greece, Japan, Latvia, Lithuania, Norway, the Netherlands, Poland, Qatar, Sweden and Hungary.

Due to the coronavirus pandemic situation, some countries did not permit to open polling stations outside the territory of Moldova's diplomatic representations, such as e.g. Israel.

… AND 42 STATIONS IN MAINLAND MOLDOVA FOR TRANSNISTRIA RESIDENTS TO VOTE

Residents of the Republic of Moldova's Transnistrian region will be able to exercise their voting right at the forthcoming Moldovan presidential election at 42 polling stations to be opened in 22 towns and villages situated on the right Dniester River side i.e. in the mainland Moldova, decided the country's Central Election Commission.

The CEC said that the Moldovan Ministry of the Interior, proceeding from its plenary powers and in compliance with Election Code provisions, will take all necessary measures to maintain public order in the populated areas where the said polling stations will be working.

In particular, Transnistria residents may vote in the cities of Chisinau, Balti, Anenii Noi, where one station each will be functioning. In the Anenii Noi Raion, which borders the Transnistrian region, stations will be opened in 4 more villages – in Varnita (4), Calfa (2), Gura Bicului (2) and Hirbovat (1).

In Causeni town and the villages of Chircaiesti, Copanca and Hagimus in the Causeni Raion there will be 2 stations each, and in the Firladeni village – one.

On November 1, two polling stations will work in the Criuleni Raion.

In the Dubasari Raion, two stations each will be opened in the villages of Cosnita, Cocieri and Dorotcaia, and one each in Molovata Noua and Ustia.

Also, Transnistria residents will be welcomed at 4 polling stations in the Sanatauca village in the Floresti Raion, at 4 stations in the Rezina Raion, and at three stations in the Stefan Voda Raion.