ATTORNEY GENERAL SAYS THE GAMING MARKET IS MONOPOLIZED IN THE INTERESTS OF A GROUP OF PERSONS
22 octomber, 2020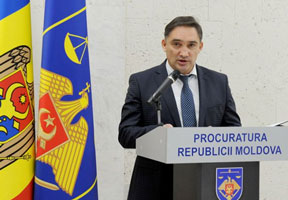 On Thursday, October 22, the Prosecutor General, Alexandr Stoianoglo, said at a briefing that the gambling market in Moldova was monopolized at the end of 2016 in the interests of a group of individuals (including foreign companies). According to Stoianoglo, "they used dubious schemes, which were covered by the informal leaders of the then Government of Moldova."
"The company "National Lottery of Moldova" (NLM) (created on the principles of public-private partnership) became, after the state-owned enterprise Metalferos, another economic structure controlled by former Democrats' leader, oligarch Vlad Plahotniuc," the Attorney General said.

According to the official, "the monopolization of an entire industry was carried out under the good slogan of "moral cleansing of the country from gambling." Changes were made to the legislation in favor of a group of people, and domestic companies were initially excluded from those who operated on the gambling market. The scheme was lined up for a specific foreign agent."

Stoianoglo said that "due to the monopoly, 65 domestic enterprises were closed, thousands of people were left without work."

The Prosecutor General also stressed that "the NLM was supposed to receive 75% of the income and the private partner 25%, but in reality the profit sharing ratio was 11.4% to the state and 89.6% to the private partner."

""From November 2018 to May 2019, only from the sale of lottery tickets were received 325.98 million lei, of which 39.5 million lei fell to NLM, and 81.5 million lei were transferred to the private partner. The analysis confirms that NLM's revenue did not exceed 51% in the slot machine sector. Thus, the state did not receive an income of 400 million lei in the period from 2017 to 2019," Stoianoglo said.

The Prosecutor General's Office opened a criminal case on the fact of abuse of office by a group of civil servants in the interests of third sides.