​AMERICAN SIDE CRITICIZES THE PARLIAMENT'S STADIUM DECISION
04 december, 2020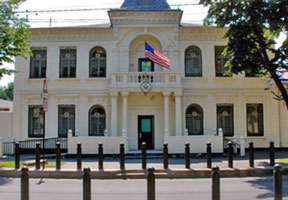 The United States "regrets and criticizes" the passage of legislation on Thursday revoking Law #151 of 2018, which authorized the sale of the site of the former National Stadium to the USA or construction of a New Embassy Compound in Chisinau, the U.S. Embassy wrote on its Facebook page.
The Embassy wrote that the United States "negotiated in good faith with successive Moldovan governments for over a decade to acquire the site. This abrogation violates a binding bilateral agreement, violates international law, and negatively affects the U.S./Moldovan relationship".

The Embassy further wrote that the United States is prepared to invest more than 250 million dollars to build a new embassy in Chisinau, creating hundreds of jobs, supporting local businesses, and revitalizing Chisinau's economy.

"As we have consistently said, any new development on the property would respect the cultural and historic significance of the site. We urge the Moldovan authorities to rethink this step and uphold its end of the bargain", wrote the U.S. Embassy.