16.09.2004 MOLDOVA'S CHILD MODELING HITS INTERNATIONAL STARDOM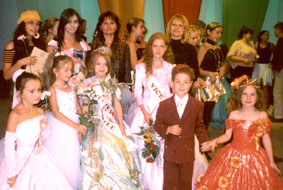 One of possible ways of making oneself 'visible' in the show business these days is to attend an international competition and, if lucky, win it. A group of nine Moldovan kids representing junior modeling agency EliteCenter led by Galina Sirbu did exactly that not so long ago by winning the World Star 2004 contest in Riga, Latvia. Not new to such an accomplishment, the Agency has put this victory on its account following a series of successful presentations in Hollywood (4 times), Moscow, Yalta, and the Danish Legoland Park. It looks as though picking up awards has become a good tradition for Moldovan youngsters.
This year in Riga, alongside Moldovans, the modeling gala featured more than 80 contenders from the CIS and the Baltic States showing off their vocal, dancing, modeling and artistic skills. Usually the events of this sort present a testing ground not just for children, but also for their trainers and teachers; among the members of Moldovan coach team, this time around, were choreograph Snezhana Apostol and Elena Mikhailova teaching performance art at the Chisinau Music, Theatre & Fine Arts Academy.
"The festival in Riga (held between September 6 and 10) was organised within the frame of the Mini Miss World contest for children aged 5-12," Sirbu said.
"When we heard that all our kids reached the final we couldn't believe it at first for it would technically indicate that our Studio was among the best in this prestigious category. I want to take the opportunity and call the names of all our winners, because their success is an inspiration for all our students, parents and teachers who put so much effort and love in their work."
Ilia Stefanesa (7) – winner of the Modeling nomination and a true favourite of the team and the entire festival, picked the Grand Prix award for Artistic Impression.
Silvia Stirbu (14) – best in Plastic Arts and Modeling nominations; winner of the honorary Grand Prix.
Our girls have shown top class in the vocal competition as well; Nadya Volk (6) scooped the gold prize in Classics while Nastia Cusnir (14) matched her achievement in World Music.
Sveta Mamaeva (8) reached the final in Modeling and Plastic Arts becoming the first in Hip-Hop.
Despite her young age, Masha Gavrilita (6), demonstrated an array of talents and beat everyone in her age group enroute to the first place in Modeling, Artistic Performance, Plastic Art and Choreography (Dance Open nomination).
Another three Moldovans – Natasha Cascaval (10), Daniela Panus (10) and Eleonora Rusila (7) – also proved best in Modeling.
Sveta Mamaeva, representing Moldova in Mini Miss World youngest group (5-8 years) got the crown of Vice Mini Miss World, while Daniela Panus (10) made it to the very top and became Mini Miss World 2004; earlier this year both girls had won the Mini Miss Moldova contest in Chisinau.
Moldova's child models have been dominating the international arena for the third consecutive year.
Autumn is traditionally very busy a period for EliteCenter; the enrollment is in full swing. Each year, the studio accommodates around 60 students; chances are that some them might eventually become internationally renowned grown-up podium stars; those who don't, however, are very unlikely to regret the years spent mastering their artistic skills for whatever good we learn in our childhood stays with us for the rest of our lives.
For more information on EliteCenter call 0691 03528.