10.10.2005 PUBLIC TRANSPORT IN NEED OF REFORM, LEADER OF MUNICIPAL SOCIAL DEMOCRATIC FACTION RECKONS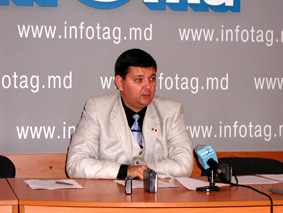 Chisinau, October 10 (Infotag). Chisinau's public transport is in need of major reform, Ilya Bagdasarov, leader of the Municipal Social Democratic faction, told a news conference in Infotag Monday.
Bagdasarov presented his concept of the municipal transport development calling it the best possible option available requiring the budget of some €50 mln.
Part of the required funds (€10 mln), he said, has already been expended on 50 new buses; another €5 mln is to buy mini-bus taxis [marshroutkas] for the capital city – 30% of the total needed number.
"Raising the marshroutka fares to 3 lei won't change anything; passengers would still be uncomfortable and unsafe," Bagdasarov held.
"We need to have on the market five-six strong investors to mend the situation."
"Primaria should distribute routes between operators via competition; successful candidates must provide vehicles boasting adequate comfort, capacity and price characteristics," he said.
These vehicles must carry 20-25 passengers both, seated and standing, charging 3 lei a ride.
Those seeking more comfort will have a choice of mini-bus taxis seating 15-17 passengers for which they'll have to pay 5 lei a trip.
Rout operators are also to take care of the so-called social transport – the large-sized buses costing 2 lei a ride.
Should the new concept be approved, large investors might be ready to put in the required funds within one and half – two months, Bagdasarov assured.
"Up to 80% of the currently operating mini-bus taxis will have to be removed. These machines may be used in suburban service. Operators who take their place will return their investment within five-six years."